What any self-respecting Overlord should be wearing in the middle of an apocalyptic show-down.
Infernal Armor becomes available after collecting the 3rd Forge Stone in Overlord II. This armour also acts as a life upgrade, adding the equivalent of one life upgrade totem.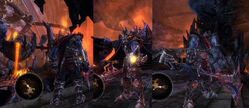 Requirements
Edit
Location
Edit
This Forge Stone can be found in the Empire Harbor.
Ad blocker interference detected!
Wikia is a free-to-use site that makes money from advertising. We have a modified experience for viewers using ad blockers

Wikia is not accessible if you've made further modifications. Remove the custom ad blocker rule(s) and the page will load as expected.