The Forge is where Giblet will create new equipment for the Overlord. But resources and minions will have to be exchanged in order to get the equipment. What resources are required depend on the specific weapons or armour and the game.
Overlord
Edit
In Overlord the forge required three different smelters in order to create the best equipment, which were the Steel Smelter, Durium Smelter, and the Arcanium Smelter. Minions can be sacrificed to the forge to improve your armour and weapons. Note that different minion types have different effects on equipment.
Note also that the player can only forge non-enchanted equipment of the three types of metals in the game (excludes e.g. Unique Items from moulds), but can upgrade them by sacrificing more minions.
Spoiler: To upgrade your equipment without sacrificing any minions, do the following. As you are upgrading or forging any given equipment, wait until the camera goes above the upgrade area. Before the minions actually come out, access the menu and exit the game. Then, reload your game. No minions have been sacrificed, but the armour is still upgraded (will not work with current patch).
Minion Effects
Edit
Equipment
Edit
The better the smelter you use the more expensive, but also more powerful your equipment becomes after a forge. The Steel Smelter produces the weakest, the Arcanium Smelter the most powerful weapons and armour.
It is up to you what minion types you use to imbue equipment. Note that you can upgrade your equipment at a later time by sacrificing more minions. The maximum number of minions you can imbue into a weapon or armour is shown below:
See also weapons and armour for details. -
Overlord: Raising Hell
Edit
In Overlord: Raising Hell the player can find Unique Items, the moulds, in the various abysses. These require certain amounts of minions and can not be upgraded (reforged) to create the:
See mould for details.
Overlord II
Edit
Differing from Overlord you no longer need to find smelters, but so-called Forge Stones. There are a total of three in Overlord II, the 1st one in Nordberg, the 2nd one in the Everlight Jungle, and the final one in the Empire Harbour.
Note: The first weapons and armour will be relatively weak but resource cheap, the more powerful equipment will take up significant resources, though.
In the second game you will need reds to power the forge which will give you 2 basic weapons the mad batter (a similar design of the old mace) and the smooth slicer (a very new version of a sword could be a scimitar sword.)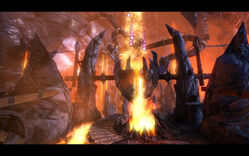 Ad blocker interference detected!
Wikia is a free-to-use site that makes money from advertising. We have a modified experience for viewers using ad blockers

Wikia is not accessible if you've made further modifications. Remove the custom ad blocker rule(s) and the page will load as expected.