The
Empire Sewers
are located under the
Empire City
. Here the Overlord searches for the
Hive
, which is unfortunately in grasp of a small crane that is later taken to the arena. Here you will find blue minions locked in wooden cargo's.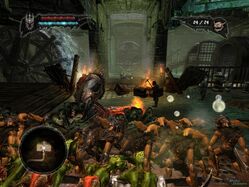 Blues
. These sewers lead through the
Empire Slums
.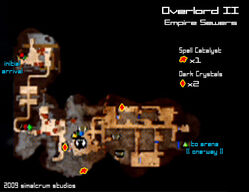 Friendlies
Edit
There is actually an safer way to leave the area. After the last area where you sweep the blues across two 8 minion buttons to drop the urns as a distraction and open the gates after getting near the final walkway another gate will lower and about four archers run in, instead of fighting your way through sweep the minions on the 8 minion button on the platform opening a gate on the other side to the right. You can now run back where you came free your blues and leave.
Ad blocker interference detected!
Wikia is a free-to-use site that makes money from advertising. We have a modified experience for viewers using ad blockers

Wikia is not accessible if you've made further modifications. Remove the custom ad blocker rule(s) and the page will load as expected.