Dark Tower Objects are objects that you acquire from different places in The World and are seen in the Dark Tower's Throne Room in Overlord.
The Spell Stones are also to be found there, but only the first eight for some reason.
The Overlord: Raising Hell-only moulds are to be found in the Forge.
Pillars grant you an extra boost in Health/Mana, or a Minion Horde size increase. Additionally Spell Stones will make new Spells available to the Overlord. For the most part these 18 pillars plus the up to 12 spell stones can be acquired in any order.
Health Pillars (6)
Edit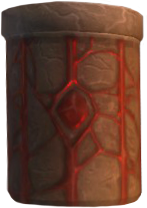 Outside of Castle Spree's dungeon, near the Waypoint gate in the eastern part of the castle.
Mana Pillars (6)
Edit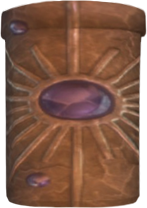 Spell Stones (12+4)
Edit
Level 1:
Level 2:
Level 3:
Minion Pillars (6)
Edit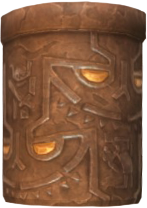 This one is already yours from the beginning of the game. (5)
The first minion pillar is automatically acquired when you regain the stolen Tower Heart. (10)
Note: you will gain 15 minions if you have a maxed out Arcanium helmet.
Smelters
Edit
Smelters allow you to forge equipment, see Forge.
Located in a ruinaed workshop. Leave the village of Spree via the western gate (towards the Evernight Forest) at the north-west edge of the fields.Surrounded by flames. Reds are required to take it.
Arcanium
Edit
Moulds allow you to forge unique equipment (Overlord: Raising Hell only!), these are found in the various abysses that suddenly crop up:
see also Mould
Minion Hives
Edit
You already have this hive at the beginning of the game.
This hive is located in the Viridian Caverns in the Evernight Forest. And in Overlord Dark Legend they can be found in the putrid pools used to for creating flora in the elven lands and are trapped in a large tube.
This hive is located within the Moist Hollows of the Heaven's Peak Swamps (deep in the cave). In Overlord Dark Legend this hive is found in the witches kitchen used to make children's teeth come fall out and then replenishing the set of lost teeth, later reveals Doris uses the hive to get a sack of gold from miss T to give to Gerda to pay for weapons used on Greenvale.
Other Objects
Edit
These are some other items that will help you along the way.
Tower Heart
Edit
Found in the Mellow Hills. In a pumpkin patch close to the gates of Spree.
Found in the Mellow Hills, south-east of Spree in the Slave Camp. Obtainable after killing the troll.
Succubus statue
Edit
Found in Halfway to heaven inn. Pick up before you kill the succubus queen then slay her.
Beer Kettle Edit
"Loot this and you'll strike a decisive blow against the Dwarves! They can't cope with sobriety" — Gnarl.
Gnarl also mentioned taking the Beer Kettle will grant the minions a "permanent boost". (Probably the stats that increases are similar to when minions get drunk, though it is not very noticeable)
Mother Goddess Statue
Edit